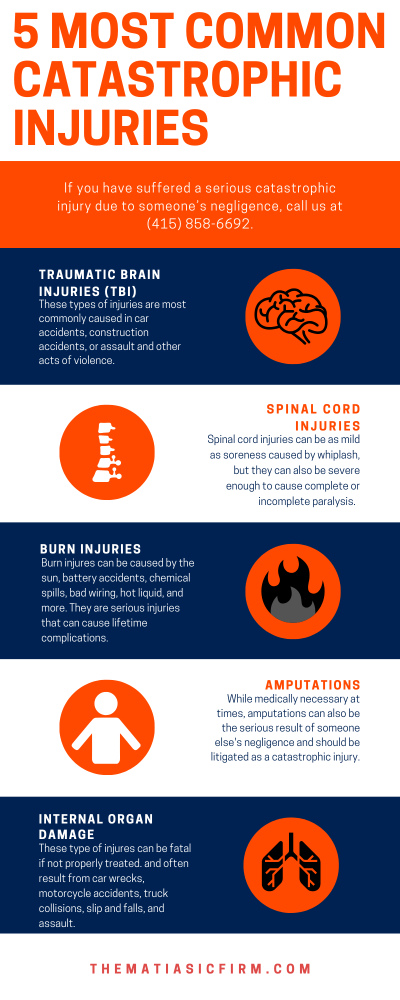 Any injury is considered serious by the person who suffers the damage. However, in the area of personal injury law, there are some types of injuries that are considered more severe than others. These are referred to as catastrophic injuries because of the long-term effects associated with the injuries.
These injuries can be difficult to endure, and they often require long-term medical care, rehabilitation, and more. Because of this, it's very important to take legal action following a catastrophic injury to help cover many of the expenses associated with the damages.
One of the most important things you can do is understand which injuries may be considered serious or catastrophic injuries. Here are some of the common types of catastrophic injuries, as well as the effects associated with them and what you may be able to do to move forward.
If you have suffered a serious catastrophic injury due to someone's negligence, call us at (415) 858-6692.
Traumatic Brain Injuries
There are plenty of accidents involving negligence in which the victim can suffer serious traumatic brain injuries as a result. The most common include the following:
Car accidents: Brain injuries can result from your brain rattling around in your skull. It can create internal brain bleeding, bruising on the tissue around the brain, and more. In some situations, your head may contact the frame of the vehicle or dashboard, also causing trauma to the brain.
Assault or other acts of violence: These are some of the most despicable actions that can cause traumatic brain injuries as they involve the wanton disregard for the victim and his or her safety. Whether through hitting, knife wounds, or even gunshot wounds, violence can be a serious cause of a brain injury.
Construction accidents: When a worker is on a construction site, they must have proper safety equipment, including a hard hat. Without this equipment, workers become susceptible to traumatic brain injuries should items fall off of scaffoldings and his or her head is exposed.
Traumatic brain injuries can also be the result of slip and falls and even medical malpractice.
Spinal Cord Injuries
Far too often, individuals of negligence have to deal with lifelong damages stemming from the accident. Few are as damaging as spinal cord injuries, which can result in the victim sustaining complete or incomplete paralysis.
Spinal cord injuries can be as mild as soreness caused by whiplash or complete paralysis caused by violence. They can result in the loss of use of one side of the body, or the body being completely paralyzed from the area of the injury and below.
When someone suffers a spinal cord injury, they face a number of hardships, including the exorbitant costs of living with the injury, as well as mental health impact, and changes needed to physically be capable of completing specific tasks.
Burn Injuries
Burn injuries are difficult to navigate at times in the legal world because there are some burn injuries that are not the result of negligence. However, knowing the various causes of burn injuries and how serious they can be regarding symptoms experienced is very important to moving forward.
Burns can include scalding, thermal, chemical, electrical, radiation, and more. They can be caused by anything ranging from the sun to battery accident and bad wiring and hot liquids. In any case, when negligence is the result of the burn injury, the person responsible should be held accountable.
These types of injuries have become infamous following the McDonald's hot coffee lawsuit in which a woman suffered serious second-degree burns after being served coffee that was too hot and spilled onto her lap. She sued over the medical expenses and McDonald's was forced to alter how they serve coffee.
Amputations
There are a number of situations that can call for amputations to be required, while other times the loss of a limb is the result of a freak accident. For instance, in a car accident where the frame is crushed towards the passengers in the vehicle, enough pressure would cause significant damage to parts of the body and amputation may occur.
There are other matters in which amputation may be suggested by a medical professional, such as in an attempt to prevent spread of infection. This can include when someone suffers a serious infection on a part of one of their limbs—such as their foot—and the only way to prevent it from spreading is through amputation.
While sometimes medically necessary, amputation can be a serious result of someone else's negligence and should be treated in the same manner other catastrophic injuries are handled.
Internal Organ Damage
Internal damage to organs can include situations involving ruptured kidneys, damage to your lungs, and more. Unfortunately, this can cause difficulty breathing and internal bleeding, which can be fatal if not properly treated immediately.
Internal organ injuries can also result from negligence-related actions such as a car wreck, motorcycle accident, truck collision, slip and fall, fall from height, or assault.
When catastrophic injuries occur, they leave the victim dealing with a lifetime of damages physically, emotionally, and financially. As such, you need someone on your side who can help you seek compensation and justice.
At The Matiasic Firm, we're committed to helping you and your family should you have been the victim of negligence and suffered catastrophic injuries as a result. We're prepared to protect your rights every step of the way.
Our San Francisco catastrophic injury attorneys are on your side every step of the way and we'll go the extra mile because you need it the most. Let us put together a strong case on your behalf and help you move forward.
Call our firm today at (415) 858-6692.